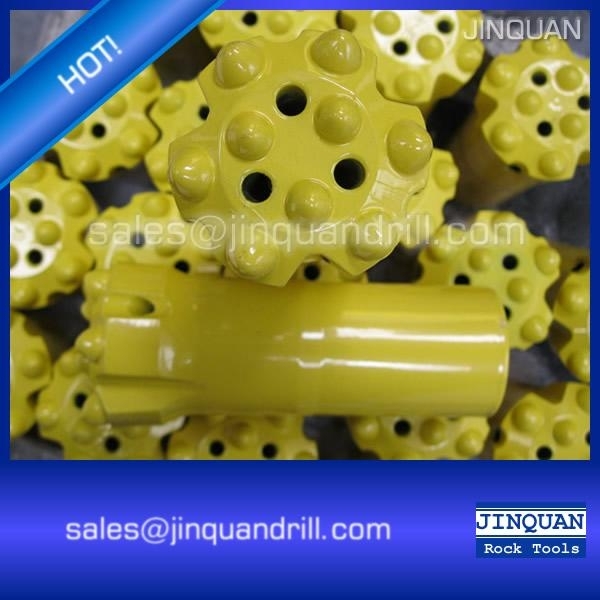 R32 thread button drill bits - ballistic button bits, R32 button bits 48mm, 51mm, 64mm
Normally R32 threaded rock drill button bits' body is made of high quality imported special steel 45CrNiMoV, the cutting head is made of special alloy YK05 after special processing.
1) Diameter: 48mm, 51mm, 57mm, 64mm, 70mm, 76mm .
2) Material: 45CrNiMoV,YK05.
3) Advanced heat treatment technology.
4) Variety carbide tips suitable for different rock formations.
5) Thread connection: H25, R22, R25, R28, R32 , R38, T38, T45, T51, T60, ST58/ST68.
Our other R32 top hammer rock tools include R32 thread button bits, R32 cross bits, R32 dome bit for reaming, R32 extension rod, R32 M/F rod, R32 coupling sleeves, R32 shank adaptor etc.
Our rock drilling bits are widely used in all kinds of mining, drilling, quarrying, engineering, construction, water well drilling, oil exploring etc.
Jinquan corporation is one of the best manufacturers & suppliers of R32 extension rod in China, sharing great reputations all over the world.
R32 benching drilling tools mainly include R32 thread button bits, R32 extension rod , R32 male-female M/F rod, R32 guide tube, R32 coupling sleeves & R32 bit adaptors.
Thread extension steel bars for rock drilling include extension rod, MF rod, light extension drill rod, drifter rod, shank adapter drill rod etc. We can also call such thread extension drill rod as threaded drill rod or threaded pipe, they own one end thread or both ends thread, with hollow round body or hollow hexagonal body. It is the main part of the threaded connection drilling tools or drilling equipments. Threaded drill rod is connected with top hammer rock drill rigs via shank adaptors & couplings, another end, they are connected with drill bits via thread also. Threaded rod could be connected with other drill rods to constitute a complete set of threaded connection whole drilling tools for drilling. Threaded drill rods could be connected with one piece of shank adapters and drill bits, or connected with lots of adaptors and bits. And ther can also be used in shallow holes and small diameter rock hole drilling, the applicable scope is wide, drilling speed, impact energy transmission loss is small, high drilling efficiency, easily to realize the drilling mechanization and improve the superiority of drilling conditions. Therefore, thread extension drill rods share a very very big proportion in the whole drilling fields.