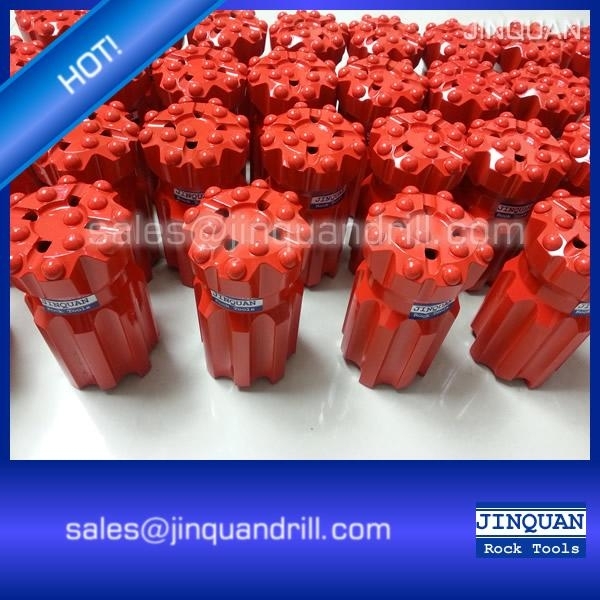 T38 Thread Retrac Button Bits Flat Face Sphercial Buttons 64mm,70mm,76mm,89mm
Rock drill bits' body is made of high quality imported special steel 45CrNiMoV, the cutting head is made of special alloy YK05 after special processing.
Jinquan's tungsten carbide buttons are with superior wear resistance and impact toughness superior, with higher drilling speed compared with the similar rock drilling tools. Rock button drill bits series tools' passivation time is longer, approximate 5-6 times of the other drill bits. This is beneficial to save the auxiliary working hours, reduce manual labor and accelerate the construction speed.
T38 Rock Drilling Button Bits:
1) Diameter: 64mm, 70mm, 76mm, 89mm Button Bits.
2) Material: 45CrNiMoV,YK05.
3) Advanced heat treatment technology.
4) Variety carbide tips suitable for different rock formations.
5) Thread connection: H25, R22, R25, R28, R32, R38, T38, T45, T51, ST58/ST68, GT60.
1. Standard body & flat face
2. Standard body & drop center
3. Retrac body & flat face
4. Retrac body & drop center
Our rock drilling bits are widely used in all kinds of mining, drilling, quarrying, engineering, construction, water well drilling, oil exploring etc.